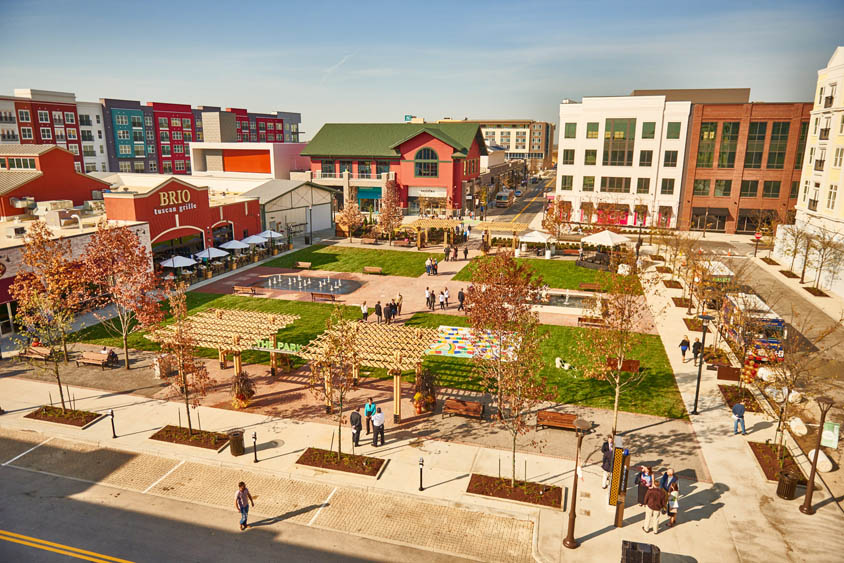 Heartland Real Estate Business
February 15th, 2016
Cincinnati, Dayton Retail Markets Thrive Despite Changing Consumer Preferences
By: Steiner + Associates
When talking about the retail sector, the economy has to be part of the conversation. Trends in retail concepts follow consumer behavior. In 2010, when the recovery began, wealthy consumers were the first to return to the marketplace. Not surprisingly, luxury retail concepts followed these wealthy shoppers.
To appeal to consumers who were experiencing a slower recovery and to address the concerns of consumers who were still budget-conscious coming out of the downturn, discount retailers and off-price concepts also flooded the market at the same time.
These two ends of the spectrum have dominated the retail landscape, leading to challenges for the middle-priced retailers. Despite the acceleration of the economic recovery, these retailers will continue to face challenges as many consumers have maintained a fiscally conservative, or even frugal, mindset.
E-Commerce Has Clout
The prediction that the advent of the Internet would spell the death of the brick-and-mortar store has not come to fruition.
However, e-commerce's impact on retail is certainly undeniable. Although 75 percent of retail sales still take place in stores, consumers are becoming more educated about products and prices as a result of the Internet.
Consumer surveys show that 75 percent of millennials use the Internet to research purchases, according to a report recently published by Cushman & Wakefield's Garrick Brown, vice president of retail research for the Americas.
This trend is forcing retailers to lower prices and operate on slimmer margins. The mid-priced retailers, in turn, have shifted budgets to e-commerce platforms and expanded distribution capabilities in order to compete in the marketplace.
The impact that e-commerce has had on the brick-and-mortar stores has been in the form of space utilization. The focus today is on service in order to draw customers into stores. For example, athletic apparel company lululemon has designed its clothing displays to be movable, giving them the ability to offer in-store yoga classes to draw in its target demographic. The most successful retailers have realized that brick-and–mortar stores and omnichannel options need to be integrated and can drive each other.
Further brick-and-mortar growth has come from the restaurant industry, a retail sector that does not compete with online sales. A food revolution is occurring across America. Higher-quality, fast-casual concepts are dominating the food landscape, including gourmet burgers, wood-fired pizzas and fusion cuisine, among others.
Millennials are driving unique personalization as reflected in the rise of the Chipotle-style, fast-casual restaurant where all orders are customized on-site.
Loyalty and coupon programs also are tailored to millennials, with coupon and loyalty events reflecting shoppers' buying history.
Absorption Remains Healthy
Despite shoppers' frugality, the combined retail markets of Cincinnati and Dayton have posted positive net absorption in 15 of the last 17 quarters based on data through the end of 2015.
During that period, retailers absorbed nearly 5 million square feet of space.
The healthy absorption drove down the vacancy rate by 220 basis points, from 8.9 percent in the fourth quarter of 2011 to 6.7 percent at the end of 2015. Asking rents in regional centers, power centers and anchor community centers will be trending up as vacancy in those centers continues to drop.
New Year, New Projects
Liberty Center's grand opening was the highlight of development activity in greater Cincinnati during the fourth quarter of 2015. The first phase by developers Bucksbaum Retail Properties and Steiner + Associates features a 200,000-square-foot Dillard's, an 80,000-square-foot Dick's Sporting Goods, a 16-screen movie theater, 240 apartments, a 130-room AC Hotel by Marriott and 75,000 square feet of office space for a total of 1.2 million square feet.
This project is the largest new retail development in the region. The center of development is in the fast-growing Liberty Township market.  The area's first Cabela's recently opened near Liberty Center, and Anchor Associates is developing the outparcel buildings in front of Cabela's. More retail, office and medical office buildings are expected within the next 18 months in Liberty Township.
The renovated Kenwood Collection project, a redevelopment project undertaken by PECO Real Estate Partners (PREP), is slated for completion this year. The project includes 285,000 square feet of retail space and 250,000 square feet of office space.
We also anticipate continued delivery of more retail, office and residential space at the Oakley Station project in the Hyde Park-Oakley area, and the opening of Menard's and Costco in the Florence, Ky., market. Kroger also will continue to grow with new locations planned in Dent and the expansion of stores like the Anderson Kroger.
Meanwhile, Dayton will see the delivery of a major project that is the cornerstone of Centerville, with Kroger Marketplace, Costco and a 70,000-square-foot Cabela's as anchors. The project also calls for two retail buildings. The first building will feature 5,000 square feet of retail space and 7,200 square feet of restaurant space. The second building will have 6,902 square feet of retail and 2,266 square feet of restaurant space.
This significant development activity shows that despite online shopping continuing to reshape the nature of retail, retailers are committed to opening new brick-and-mortar operations.
Restaurants are expected to continue their aggressive expansion in 2016.  However, time will tell how increased interest rates, along with already high land and construction costs, may temper the growth of new construction.