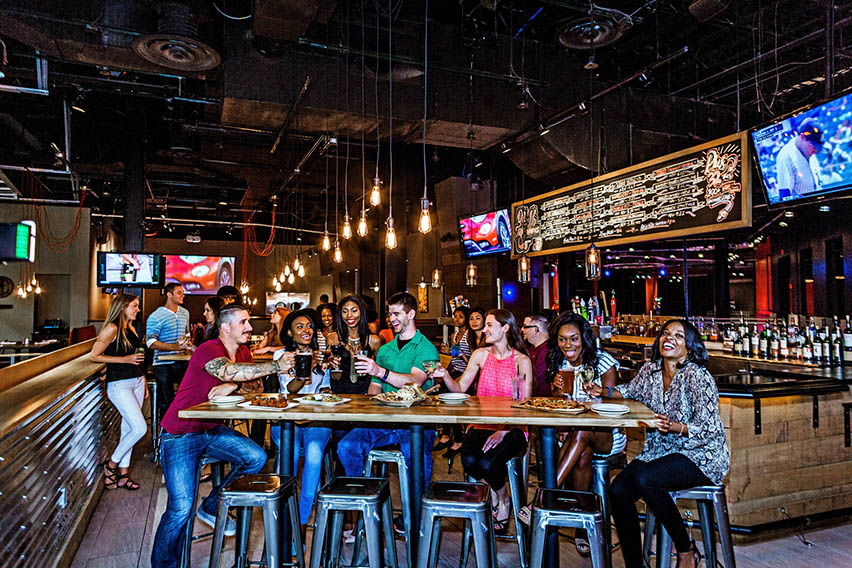 WOB Easton Hosts First Craft Beer Fest
May 21st, 2013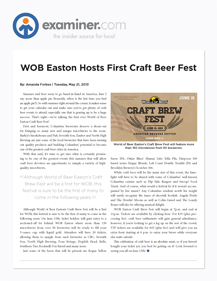 Examiner.com
By Amanda Forbes
Summer and beer seem to go hand-in-hand in America, dare I say, more than apple pie (honestly, when is the last time you had an apple pie?). So with summer right around the corner, it makes sense to get your calendar out and make sure you've got plenty of craft beer events to attend, especially one that is gearing up to be a huge success. That's right – we're talking the first ever World of Beer Easton Craft Beer Fest!
First and foremost, Columbus breweries deserve a shout-out for bringing so many new and unique microbrews to the scene. Barley's Smokehouse and Pub, Seventh Son, Zauber and North High Brewing are just some of the local breweries that have been turning out quality products and building Columbus' potential to become one of the greatest craft beer cities in America.
With that said, it's time to get into what is certainly promising to be one of the greatest events this summer that will allow craft beer devotees an opportunity to sample a variety of high-quality microbrews.
Although World of Beer Easton's Craft Brew Fest will be a first for WOB, this festival is sure to be the first of many to come in the following years. On June 15th, ticket holders will gain entry to a sectioned-off lot behind WOB Easton where more than 150 microbrews from over 50 breweries will be ready to fill your 5-ounce cup with liquid gold. Attendees will have 20 tickets, allowing them to sample from such breweries as CBC, Seventh Son, North High Brewing, Four Strings, Dogfish Head, Bells, Southern Tier, Rockmill, Fox Barrel and many more.
Just some of the beers that will be present are Rogue Yellow Snow IPA, Oskar Blues' Mamas Litte Yella Pils, Harpoon 100 barrel series Hoppy Blonde, Left Coast Double Trouble IPA and Brooklyn Brewery's Scorcher 366.
While craft beer will be the main star of this event, the limelight will have to be shared with some of Columbus' well-known Columbus cuisine such as Flip Side Burgers and Swoop! Food Truck. And of course, what would a festival be if it weren't accompanied by live music? Any Columbus resident worth his weight will surely recognize the tunes of ekoostik hookah. Angela Perely and The Howlin' Moons as well as Colin Gawel and The Lonely Bones will also be offering musical delight.
WOB Easton Craft Brew Fest will begin at 7 p.m. and end at 11 p.m. Tickets are available by clicking here. For $35 (plus processing fee), craft beer enthusiasts will gain general admittance, however, if you're looking to get a leg up on the rest of the crowd, VIP tickets are available for $45 (plus fee) and will give you an extra hour starting at 6 p.m. to enjoy your brews while everyone else waits outside.
This celebration of craft beer is an absolute must, so if you haven't bought your ticket yet, you best be getting on it! Look forward to seeing you all on June 15th!
Download "WOB Easton Hosts First Craft Beer Fest" Examiner.com, May 21, 2013.